Brian Cookson: UCI chief says body is "unrecognisable" from when he took over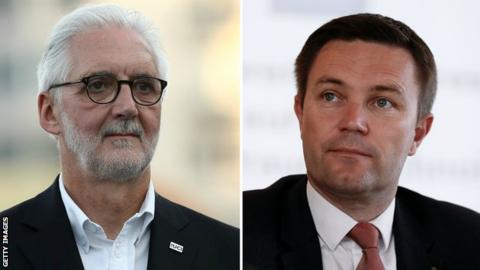 UCI president Brian Cookson says cycling's world governing body is "unrecognisable" from the "chaotic and dysfunctional state" it was in when he took over as he seeks re-election.
The Briton, 66, is being challenged by Frenchman David Lappartient in Thursday's presidential election.
Cookson deposed Ireland's Pat McQuaid in a bitter contest in 2013.
"Cycling was broken and its credibility lay in tatters under the old regime," said Cookson.
"Our transformation has not happened by chance, but through a huge amount of hard work and determination to transform the UCI into a world class governing body which sets a global standard."
Cookson, who was president of British Cycling from 1996 to 2013, has accused McQuaid of "actively lobbying" against him and has "proof" his predecessor is trying to influence the vote.
McQuaid was among those heavily criticised in a landmark report published in 2015 into the sport's troubled recent history.
"I have delivered on my promises, and demonstrated that I am a man that can be trusted to lead the UCI with good judgement and calm integrity," said Cookson in a statement on his website.
Cookson has also said UCI vice-president Lappartient would take the body in a "devastating direction" if he wins, which his opponent said was a "clear sign of despair from Brian Cookson and his languished campaign".
On Wednesday, Cookson added: "Voting delegates have a clear choice between someone who has kept his word, delivered change, and restored the UCI's credibility… and someone who has allied himself with, and is supported by, the forces of the past.
"We must look forward and build on our restored credibility, providing more opportunities for developing nations and even more support for those who require it most."
The election will be carried out at the UCI congress in Bergen, Norway, which is currently hosting the Road World Championships.
"We can see here the huge and renewed enthusiasm that there now is for our beautiful sport," said Cookson.
"Now we must build upon the progress we have made with even more ambitious plans to take cycling to the next level."