Adam Peaty: Olympic and world champion swimmer building legacy outside pool
On ground marked by death, in a desperately deprived community in the heart of Zambia's capital city Lusaka, British swimming's golden boy Adam Peaty has been busy building a legacy outside the pool.
Almost five years after first helping raise money during a charity bike ride across the African county, alongside coach Mel Marshall and fellow Olympic gold medallist Rebecca Adlington, Peaty returned to the city to open a play park the funds paid for.
In a country where the minimum wage is just 30p, one in every 100 shelters in the area have running water, and 82% of the population is aged under 35 – a statistic largely attributed to the prevalence of HIV/Aids – access to swings, slides, sea-saws, volleyball and basketball courts is a big deal.
"Creating a legacy, for me, is one of the most important things," Peaty told BBC East Midlands Today on the day he helped to officially open the site.
"It is not just about the medals and world records, it is how to translate that into global causes."
That cause in Zambia has helped bring a team of coaches and teachers into a particularly poor area of Lusaka to give children access to health education and the backdrop to enjoy a childhood that includes fun and games.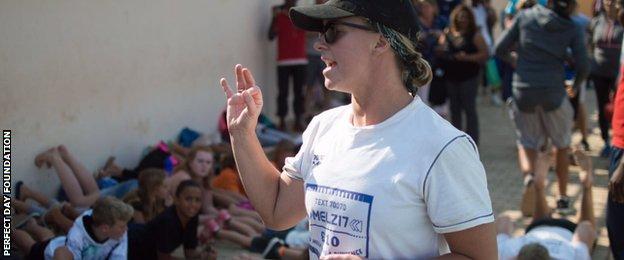 'People would kill each other here'
For the community, it is a huge transformation.
"This place used to be a dump for a long time, people used to kill each other here, used to take drugs here, but now it is a play park and people can have fun," said one local child, Ndopu, in between games on the basketball court – a sport in which he hopes to one day make his name.
After winning another two world titles and twice breaking his own 50m breaststroke world record in Hungary, Peaty chose to spend one of his three weeks away from the pool in Zambia to try to raise more funds.
This time the sporting challenge was to play five sports – football, basketball, netball, volleyball and triathlon – over five days, totalling 50 hours of action, in an attempt to raise £50,000.
A super fish he may be, but when on a basketball court the 22-year-old was very much a fish out of water.
His presence, however, was dazzling enough as youngsters flocked to see the Uttoxeter-born sporting star.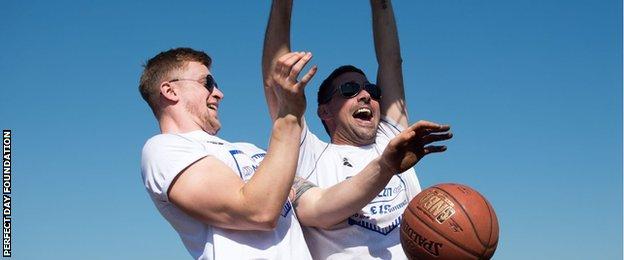 'I still like fast cars'
Joyously, he kicked up dust on a football pitch and took plenty of satisfaction in flexing his muscles with a jaw-dropping push-up routine, but with every action he was acutely aware what being there in person would mean to changing the circumstances of those around him.
"This is who I am, I love to give back," he said. "When I was first here aged 17, it was a massive learning curve. It was great to get a perspective of the real world and how the real world is.
"That is especially important when you start winning medals and breaking world records – it can get out of your head a bit.
"Yes, you do like fast cars and nice clothes, but it is a fine balance. That is equilibrium at the end of the day.
"It is great to come back here and give back to so many people."
And it went far beyond fun and games in a park, as money raised for The Perfect Day Foundation – a charity which Peaty's coach Marshall is an ambassador for – went towards helping fit out the girls' dormitory at a orphanage in Lusaka.
Getting 30 girls off the street, away from the threat of abuse, was the group's immediate concern on one of their many stops.
"Girls here have a really hard time, they are just not treated the same – their childhood is filled with rape and with abuse. It is just accepted. They have no voice, no nothing," said Marshall, one of Britain's top coaches who has had Peaty under her tutelage for a number of years.
"The girl side of it really means a lot to me. No female deserves to be less, to accept that they are lower in the pecking order."
Changing lives through sport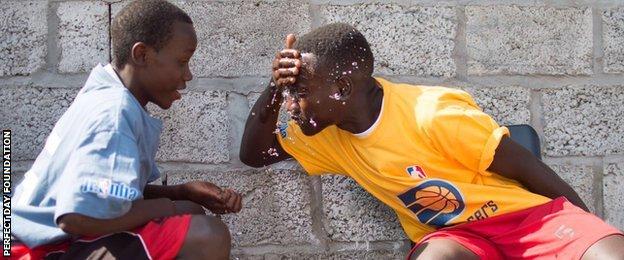 Peaty and Marshall also spent at day at Fountain of Hope, a facility that is everything from safe haven to a school and sports club for children living on the streets.
Blessing Muteng has called it home since 2011 when his sister was snatched off the streets and he was confined to a wheelchair following injuries sustained in a fight.
Peaty's visit came as a boost – one with long-lasting effects, which Muteng said will go well beyond the hours he spent there trying to drum up support.
"It really helps us," Muteng said. "It is very important when you change something for a person, because that someone goes on to help another person because of the help.
"If we come together and help one another, we can change the world through sport."
While it may have been as far away as Peaty could possibly get from the glistening pools of swimming's elite, Marshall insists every moment the "British lion" spent in Zambia was just as important as any training regime conceivable.
"This is why I coach," she said. "If I don't teach him about life as well as sport, then what am I to him in his life?
"You see a lot of superstars, they don't know what to do with the fame, they get this reality distortion. In sport it is a false world, it is not real.
"Making sure you are surrounded by the real world is important.
"I call him the lion because he is a figurehead people look to, he is the result that people rely on."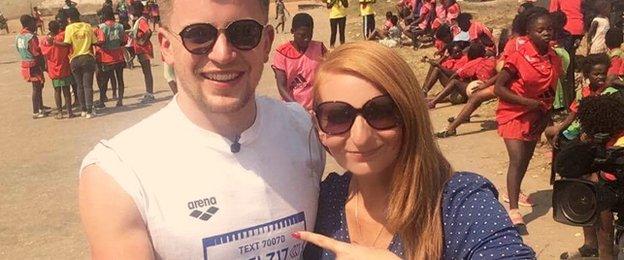 Analysis
BBC East Midlands Today sports editor Natalie Jackson, who spent time with Peaty in Zambia
This was a week which changed the life of not only Peaty, his coach Marshall and their Zambia 5050 team, but the lives of thousands of Zambian children.
It was a trip which changed me because so many kids here live in heartbreaking social conditions. Many children of primary school age are addicted to alcohol, do not have parents and fend for themselves on the brutal streets.
Many of the group were brought to tears seeing at first hand how tough life is for Zambian children. The money Peaty is hoping to raise will build another sport centre and these places are so vital to provide a safe place.
Sport in Zambia gives people hope and an opportunity to stay safe and make a change.
Peaty could have spent his week off after the World Championships on a beach but he chose to do this sporting challenge, on the hot dusty streets of Zambia.
He showed he is a champion in every sense of the word. Not just for the medals, but for wanting to create a legacy and make a difference.